What's Happening at the Indiana State Library Foundation
NOTICE: RSVP DEADLINE EXTENDED!
RSVP DEADLINE FOR THE "HISTORY OF BREWING IN INDIANA" HAS BEEN EXTENDED TO MONDAY, JUNE 6th.
THERE'S STILL TIME TO RESERVE YOUR TICKET TO THE EVENT!
As the new year begins, the Indiana State Library would like to remind everyone that several training videos from 2021 are available to view on the library's YouTube channel.
Recent uploads include "An Empathetic Approach to Customer Service Training," "What's Up Wednesday - Get INSPIRED: Live Demo/Q&A,"CSLP 2022: Oceans of Possibilities," "Gobble Up Information at the Indiana State Library" and "Capital Assets and Depreciation."
The Indiana State Library does not provide LEU certificates for training viewed from its archives. To get credit for watching one of the State Library's archived videos, the library staff member who viewed the video will need to ask the person responsible for issuing LEUs at their library - often an administrator or HR manager - to create and sign an in-house LEU certificate. When a library director uses an in-house certificate, it must be signed by the president of the library board or an HR manager. Learn more about in-house certificates
here under the heading "How do I document LEUs for Live and Archived virtual conference sessions or webinars?" To confirm the amount and type of LEU available, read the webinar description on the Archived Webinar's page
here.
In addition to training videos, the State Library's YouTube page also houses playlists featuring interviews with Indiana authors, gaming webinars, INSPIRE information and digitized archival footage.
Click
here to view the Indiana State Library's YouTube channel and to subscribe.

Indiana State Library's website featured in annual list of the 75 Best State Websites for Genealogy
Family Tree Magazine has announced the release of its newly-revised and updated 75 Best State Websites for Genealogy list. The list highlights the best state-based resources for family historians to research their family tree.
The Indiana State Library's
Genealogy Collection website has been chosen to be part of the list.
"We're proud of how this list highlights the great work being done by societies, archives and libraries around the country," said Family Tree Magazine editor Andrew Koch. "And entries for additional U.S. territories will hopefully help even more researchers find their ancestors."
The State Library's Genealogy Division website includes indexed marriages, death listings, biographies and newspapers. The Indiana Legacy collection indexes records at libraries, historical societies and genealogical societies, while Indiana Memory includes oral histories, city directories, photographs, newspapers, yearbooks and more. Additionally, users can find letters, diaries, photographs and family Bible records under Indiana State Library Digital Collections.

The 75 Best State Websites list is compiled by contributing Family Tree Magazine editor Rick Crume. The list covers a wide variety of websites for family historians, and each entry is accompanied by a summary of what makes each website valuable. Many of these online collections feature not just indexes and catalogs, but actual images of historical records and photographs as well as digitized vital records, diaries, biographies and more sources that can bring family history alive.
Click
here to view the full list of websites. Click
here to read Family Tree Magazine's complete press release.
'Indiana's Great Outdoors' Statehood Day essay contest now accepting submissions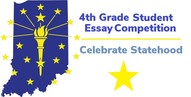 The Indiana Center for the Book is hosting an essay competition to commemorate Indiana's 205th Statehood Day. This year's theme is "Indiana's Great Outdoors." The Statehood Day Essay Contest takes place annually in the fall and is open to all Indiana fourth graders.

Essays should be well organized and reflective of the theme "Indiana's Great Outdoors." Judges will interpret the theme. Thematic ideas include: Why is nature important? How do you enjoy nature in Indiana? Why are water and other natural resources important? What outdoor recreational spots in Indiana are special to you? Why is nature important to a great state?
Winners of the essay contest will be honored on Friday, Dec. 10 in a ceremony that may be in-person or may be virtual. The winners will be expected to record their essays for a virtual ceremony. In-person ceremonies may take place at the Indiana Statehouse or other locations, pandemic permitting.
The first-place winner receives a CollegeChoice 529 deposit of $250, while the second, third and fourth-place winners receive CollegeChoice deposits of $150.
The essay contest rules are as follows:
- The competition is open to any Indiana fourth grade public, private or homeschooled student in the 2021-22 school year.
- A panel of judges, including Indiana State Library staff and volunteer educators, will choose the first, second, third and fourth place winners.
- Essays must range from 100 to 300 words; handwritten or typed and must be submitted with an entry form.
- Individual entries should use the 2021
individual entry form and class sets should use the 2021
group entry form. The following information should be included on each essay for class sets: student name, teacher name and school name.
- All entries may be mailed or emailed and must be received by Friday, Oct. 22, 2021.
- Mailed entry forms can be sent to: Indiana Center for the Book Indiana State Library
140 N. Senate Ave. Indianapolis, IN 46204.
- Emailed entry forms can be sent
to this email address as an attachment.
Click
here for more information about the 2021 Statehood Day essay contest, including lesson plans for teachers, and to view the 2020 winning essays.
Please contact
Suzanne Walker, Indiana Center for the Book director, with any questions.