Indiana Vision Expo returns to the Indiana State Library on Saturday, Sept. 9 from 10:00 a.m.-2:00 p.m.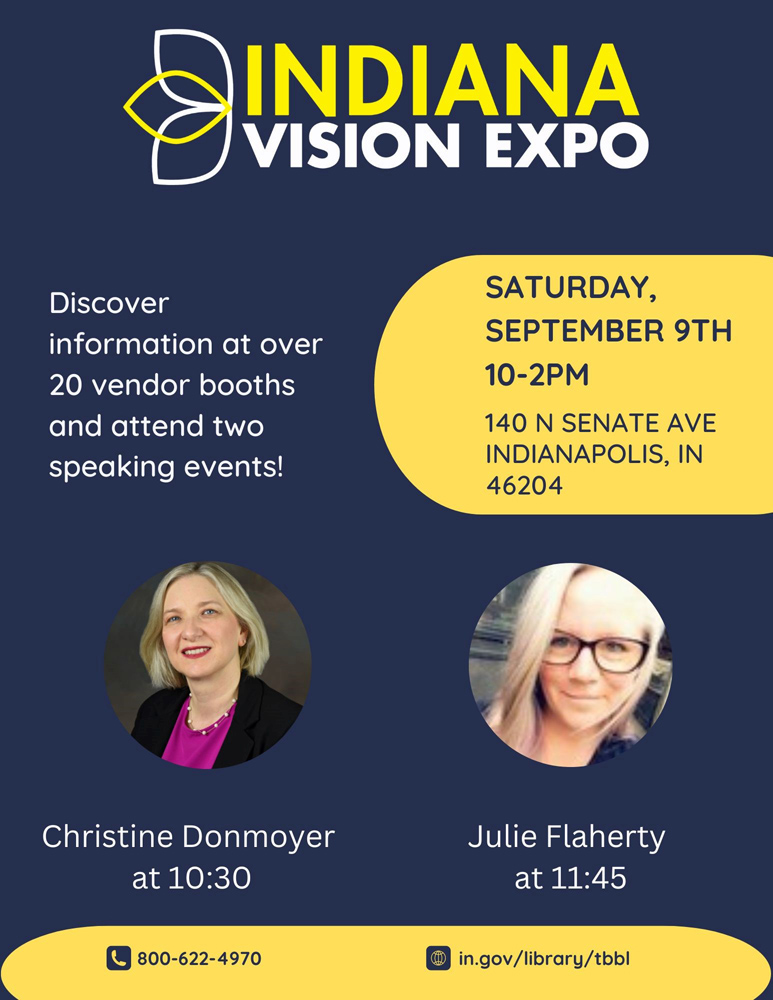 This year we have made a couple of changes!

• The entrance will be at 140 N. Senate Avenue; this is much closer to the event than in the past.
• Parking in the Indiana state government lot at the corner of Ohio Street and Senate Avenue will only be $10 for the event.

We have two speakers this year:
Christine M. Donmoyer, Ph.D. will be speaking about her book "Invisible Disability: Living with Macular Degeneration." Her book is a guide for newly-diagnosed AMD patients. It addresses the challenges that a patient faces in daily life. These challenges do have solutions as Donmoyer shares her insights from her unique patient perspective. She will be speaking at 10:30 a.m.
Julie Flaherty is a certified accessible travel advocate and specializes in accessible travel for individuals with disabilities and special needs. In her presentation, she will share stories about her travel adventures as a visually impaired traveler. She will also share her secrets to good travel. She will be speaking at 11:45 a.m.
The following vendors are planning to be in attendance:
• Accessibility
• Bosma Enterprises
• Cori Braille Service
• Easterseals Crossroads
• Eye Can See
• FSSA-BVIS
• FUSE Inc.
• Independence Science
• Indiana NFB Parents of Blind Children
• Indianapolis Bowling League for the Blind
• Indianapolis Public Library
• Jean Brown- Macrame artist and author
• Leader Dogs for the Blind
• Lyons Club of Greentown
• Marion County Election Board
• Marty and Julie Flaherty- Cruise Planners
• MDWise
• NFB-NEWSLINE
• QR Speak (Playing Cards)
• Royal Caribbean
• Simplified Insurance Solutions, LLC
• Sleek Crochet
• Tactile Engineering
• VA-Visual Impairment Services Team (VIST)
• Visually Impaired Preschool Services
Gov. Holcomb launches statewide expansion of Dolly Parton's Imagination Library.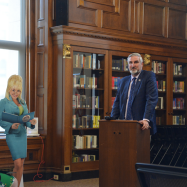 On Thursday, Aug. 24 at the Indiana State Library, Gov. Eric J. Holcomb kicked off the statewide expansion of Dolly Parton's Imagination Library, which gifts free, high quality, age-appropriate books to children from birth to age five on a monthly basis, regardless of family income. Gov. Holcomb announced Dolly Parton's Imagination Library statewide expansion as part of his 2023 Next Level Agenda.
The goal of the statewide expansion is to make books available to children ages 0-5 in every zip code in Indiana. The program is free to enrolled children and will soon be available to more children and families in Indiana.
"I learned from a very young age that reading is the key to further education and opportunity ahead, long-term," Holcomb said. "The very ability to read can transport children and adults alike to places they have never been and open doors they never knew existed. By making Dolly Parton's Imagination Library available in every zip code, we are giving Hoosier children yet another personalized tool close to home they'll need for literary success."
On May 4, Holcomb signed legislation into law that allotted $6 million over the biennium, $2 million in the first year and $4 million in the second year, as part of a community share to expand the program to every zip code in the state.
"It takes a lot of great people working together to make this possible, and I want to thank Governor Holcomb, the Indiana General Assembly, State Librarian Jake Speer and all our local community partners across the state who helped make this dream a reality," Dolly Parton said.
The Indiana State Library will coordinate the program and provide the state's match to interested organizations or individuals to become local program partners. Currently in Indiana, Dolly Parton's Imagination Library is available in 54 counties and is partially available in eight counties, with expansion plans to fully cover the entire state – all 92 counties. Starting Sept. 1, current local Imagination Library partners will only pay 50% of their local program cost with the remaining 50% paid by the state.
"Early literacy is very important, and Dolly Parton's Imagination Library program makes reading fun and exciting for children and their families," said Jake Speer, Indiana State Librarian. "I'm thrilled to have the opportunity to work with existing and new partners in Indiana to get statewide coverage of this program."
Click https://imaginationlibrary.com/ to see where the Imagination Library is currently available. Those interested, can enroll their child or sign up to be notified when a program comes to their community.

Join the Indiana Talking Book and Braille Library's Summer Reading Program for "All Together Now" to celebrate friendship, kindness, and togetherness. Books are available to borrow from the library in braille, large print, and digital audio formats; participants can also download digital audio books and braille files from BARD at
http://nlsbard.loc.gov, or use the BARD Mobile app available from the iTunes app store, the Google Play store, or the Amazon App Store.
Any book borrowed from the library within the time frame will count toward a participant's total. Note that only books borrowed or downloaded from the library will count towards a reader's total. Every reader will receive prizes!
We will be sending out materials throughout the program including prizes, activity sheets, crafts, and more!
To enroll, please complete the application and email it to Abby Chumin at
achumin@library.in.gov .

Questions about this program can be directed to Abby Chumin, Librarian, by phone at
317-232-3684 /
1- 800-622-4970 or by email at
achumin@library.in.gov.
TBBL JG 3-13-2023